REDUCED PRICES ON ESSENTIAL PPE PRODUCTS
PPE Essentials are in demand for the winter. Our warehouse is fully stocked so you can keep your customers satisfied all year long and we are pleased to be able to offer you lower prices.
PPE Masks and Splash Protection Face Shields
Supply your customers with KN95 masks, 3-PLY disposable masks, splash protection face shields, and hand sanitizer. And remember that Monarch Brands is your Go-To Source for Microfiber cleaning cloths.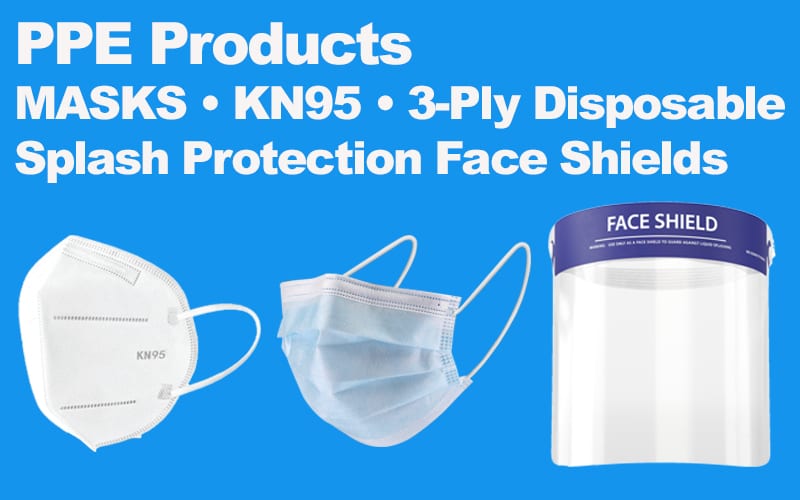 | Item | Pieces/Box | Boxes/Case | Item Code |
| --- | --- | --- | --- |
| Level 1 3-Ply Disposable Masks | 10 pieces/box | 100 boxes/case | ITEM#: MASK-3PLY |
| KN95 Disposable Masks | 20 pieces/box | 50 boxes/case | ITEM#: MASK-KN95 |
| Direct Splash Protection Face Shields | 100 pieces/box | 1 box/case | ITEM#:FS-100PC |
NEW Papillon™ Hand Sanitizer 
Papillon Hand Sanitizer™ is made with the FDA recommended 62% Ethyl Alcohol formula. We currently stock three sizes of hand sanitizer, a gallon pump, a 12oz pump, and a squeezable 8oz personal bottle. Pleasantly scented Papillon Hand Sanitizer™ features the extract of the Aloe Barbadensis Leaf. Aloe grows wild in tropical, semi-tropical, and arid climates around the world and has been studied for its restorative and healing qualities.
All ingredient facts, directions for use, and storage recommendations can be found on each Papillon Hand Sanitizer™ container. If you would like details on private labeling or alternate put-ups please do not hesitate to reach out. We work with all our suppliers to ensure that you get what you need for your clients.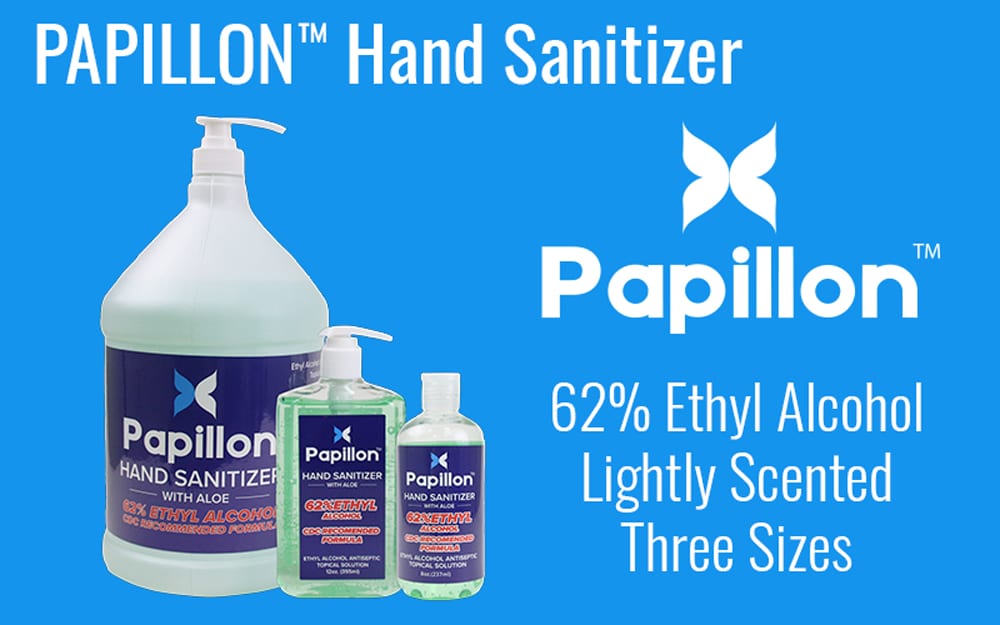 Item
Product Size
Qty/Case
Item Code
Papillon Hand Sanitizer
GALLON
1 Gallon Pump
4/case
ITEM#: HS-ETL-1GAL
Papillon Hand Sanitizer
12 OZ
12 Oz. Pump
12/case
ITEM#: HS-ETL-12OZ
Papillon Hand Sanitizer
8 OZ
8 Oz Squeeze Bottle
24/case
ITEM#: HS-ETL-8OZ