Monarch Brands In A Nutshell
Ever wondered just how we tick? How we started from wholesaling rags in 1947 to distributing bulk microfiber, commercial linens, wholesale institutional towels, and wiping products in 2017?
As we prepare to move into our new 300,000 square foot facility in northeast Philadelphia, we're taking stock of where we came from and where we're headed.
Simply put, We grow with our customers. Every new product line, from hospitality to EVS supply, is motivated by our anticipation of customer and market forces. We started in professional wiping rags, moved into institutional seconds, developed first quality towels, then added our wildly successful microfiber cloths and mops. Most recently, we successfully launched into the wholesale home domestic market with our sister company Arkwright LLC.
As we grow our business, our capacity to service customers must evolve. Monarch Brands' new facility features efficiency-boosting enhancements such as redundant loading docks, push-back racking, and pick and pack software. Even the location (north of Philadelphia) was strategically selected to cut transportation time through the northeast corridor down.  Our goal is to grow by helping you do what you do best… without worrying about supply or logistics. Click to view the infographic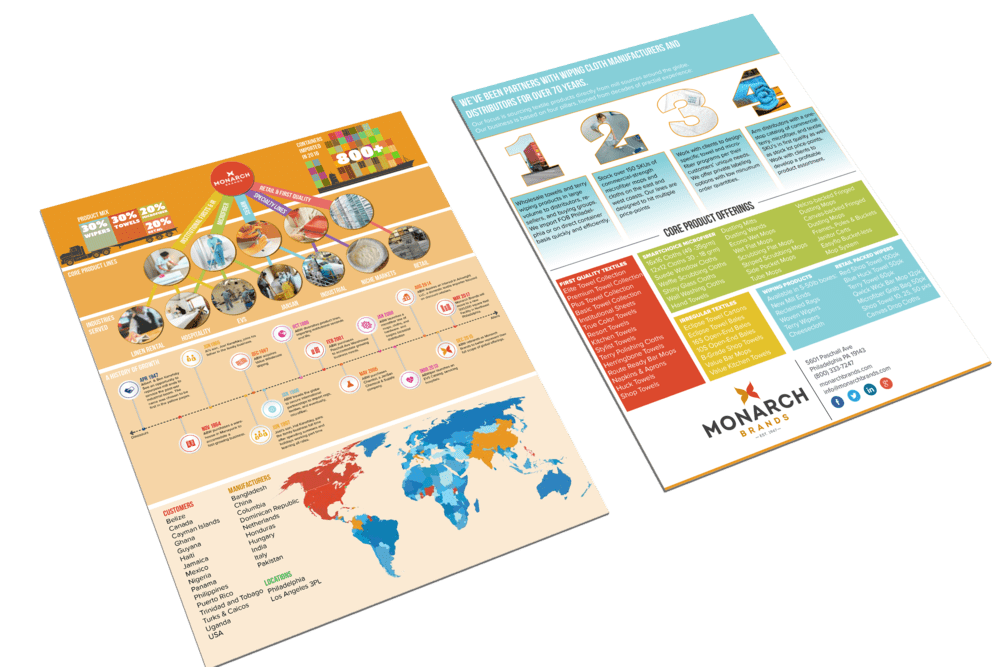 BACK TO NEWS