Whether you're a pro or cleaning your home, You have determined that microfiber cleaning products are the way of the future, and you've made the switch to microfiber cleaning products. You know they'll last longer, clean better, and more absorbent than comparable cotton products. So now the question is, how do you get the most use out of your microfiber? 
 We construct wholesale microfiber products to be used hundreds of times. That's not an exaggeration or an estimate; you can use and wash our microfiber terry cloths up to 500 times if you take every precaution during the laundering process. I'll share helpful advice and tips here for you to use to guarantee the longevity of your microfiber.  
 To start, you should be cleaning your microfiber products after each use to avoid the possibility of any contaminants immersing themselves in the goods. When you're ready to wash, remember that all microfiber items should be washed together, separately from non-microfiber products. Any cotton in the machine could abrade or scuff the fabric, leaving lint behind. If your cloths are heavily soiled, don't forget to increase the amount of solvent that you use! Use warm/hot water (up to 120F/50c); scalding hot water will damage the microfiber. We recommend using neutral PH detergents, as any high alkaline detergents could damage the microfibers. Although microfiber is a cleaning workhorse, be gentle when it comes to washing your microfiber items!                
Pro Tip: If you need to eliminate any odors, you can add a tablespoon of white vinegar to the washer.
 Secondly, you have to be very careful about how you dry the items. Heat is incredibly damaging to microfibers, so we often recommend that you allow your microfiber supplies to air dry. If that's not an option, remember to set your dryer to a very low temp and keep in mind that microfiber will dry faster than cotton!  
Pro Tip: Be sure that your lint trap is empty; a dirty trap could deposit lint on your items.  
By following this laundering process, you'll be able to increase the number of times you can use your microfiber. Here are a few other tips and tricks for you as well, so that you can extend the life of your microfiber cleaning supplies for as long as possible. Remember: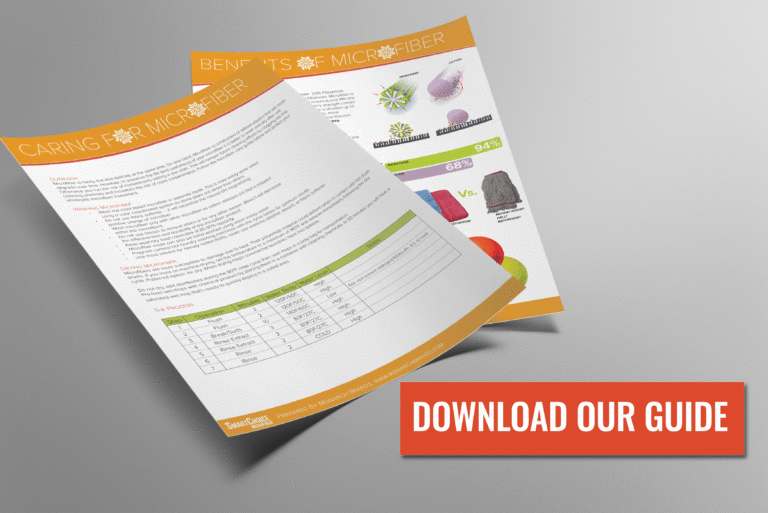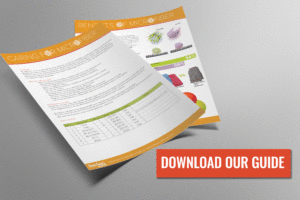 Wash at 120F/50c but no higher. 

Avoid harsh soaps, bleach, and fabric softener.   

Use a minimal amount of detergent on any microfiber products.     

Rinse your microfiber mop heads before going into the dryer on low heat.  

Do not use dryer sheets with your microfiber.      

Do not iron your microfiber. (Heat's damaging!)
Another critical point to keep in mind is to make sure that you're buying the appropriate microfiber tool for the job. For example, if you're looking to remove heavy grime from your floors, then I would recommend a microfiber scrubbing mop specifically constructed to remove heavy dirt. If you know that your microfiber cloths are going to be used in a heavy-duty (or high-loss) environment, buy SmartRags. Many hospitals use one SmartRag per room then discard them to prevent the spread of HAIs. If you are looking to minimize hand contact with surfaces, use our Microfiber Trowels with 10″ pads. We recommend color-coding your microfiber. Read this helpful post for details.
 By following these instructions for caring for microfiber, you'll be saving money AND helping to save the planet. Since microfiber is reusable and washable, you will be contributing less waste. Microfiber leads to a decrease in air pollution and deforestation (microfiber replaces paper wipes). Additional benefits include reducing the need for chemicals and water, which also adds to a more cost-effective long term. There are also fewer workplace injuries with microfiber mops since less water on the mops lessens the risks of injury inherent in rinsing and changing the water with cotton cleaning products. As we're sure you're aware, any tool that benefits the health and productivity of your essential cleaning crew increases the value of your business.
 As we all begin to posit what a life post-pandemic will look like, we know that cleaning and sanitizing processes will be in more demand than ever before. Here at Monarch, we want to help you be ready for the new requirements of your industry going forward. We know that what used to be common practice will no longer be suitable for most public spaces. Gone are the days of cotton cleaning products, whose natural fibers could be harboring microbes. According to the CDC, microfiber cleaning items are 34% more effective than comparable cotton items. Let us help you in choosing the right tools for your business, and in making the most of your investment.
If you are a distributor, please email me at [email protected] to discuss your needs. If you are a consumer, please contact [email protected] to learn where you can purchase our products.